LIMITIERT & FÜR KURZE ZEIT:
<transcy>From our online shop</transcy>
<transcy>Your florists</transcy>
... for something special. Whether a wedding, family or company event, hotel decoration - or just a special bouquet of flowers. Petra Müller Blumen has shops in Munich's Westend and Glockenbachviertel, and my team and I are looking forward to your visit.
You can also order easily in our online shop - we deliver Monday to Saturday in the Munich city area.
I have been a florist since 1987 and worked in Canada for seven years and in New York City for one year. I've been back in my hometown Munich since 2007 and opened my first shop in the Westend. The look and style of my work is shaped by my time on the North American continent. I buy most of the flowers from local gardeners and small businesses. By fair trade, I don't just mean the fairtrade logo, but human and fair treatment.
At this point I would like to thank you again for the beautiful flowers. The bouquet is beautiful and it moved my parents to tears. So much so that my father struggled for words, I've never seen anything like that. Today my parents told me how beautiful the flowers bloom and that they enjoy them so much. I live in Hamburg and my parents in Munich, and yet you have managed to create a connection from here to there with your beautiful bouquet of flowers. I would like to thank you from the bottom of my heart for that. The bouquet was put together with love and great care, this has passed on to us. A precious and valuable privilege especially in these days! Kudos to you and your warm, hard-working and extremely friendly staff. In a word, you are outstanding! Greetings from Hamburg

<transcy>FZ</transcy>
On Monday you gave me a nice bouquet of red peonies, the flowers still looked very reserved.
In the following days, as you predicted so enthusiastically, they literally exploded, see for yourself. THE WOW !!

Thank you very much for this once again unique flower experience. And see you soon! 😊



<transcy>KG</transcy>
Dear Petra, It was so lovely to chat with you all the way from Australia and for you to organize my daughters flowers for her very special concert. This was here response:
"Stunning flowers, absolutely stunning. Maybe my favorite that you've given me so far. Plus they came in a glass vase, which I get to keep"
Petra, they were stunning and we cannot thank you enough. It made it very special. With warmest regards

<transcy>NF</transcy>
<transcy>Our stores in Munich</transcy>
<transcy>Westend:</transcy>
BERGMANNSTRASSE 35A, 80339 MUNICH
TEL: 089 - 510 89260
OPENING HOURS:
MON-FRI: 9 a.m. - 2 p.m., 3 p.m. - 6.30 p.m.
SAT: 8.30 a.m. - 2 p.m.
SUN: 10 AM - 12 PM
(CLOSED SUNDAYS DURING SCHOOL HOLIDAYS)
Blumenladen Fraunhoferstraße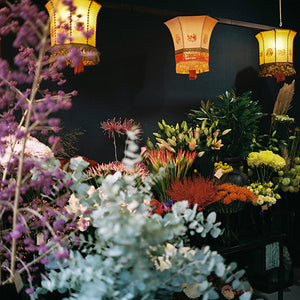 <transcy>Glockenbach</transcy>
FRAUNHOFERSTRASSE 4, 80469 MUNICH
TEL. 089 - 238 89393
OPENING HOURS:
MON-FRI: 10 a.m. - 7 p.m.
SAT: 10 a.m. - 4 p.m.
CLOSED SUNDAYS